Sister Luigina at the Fortezzuola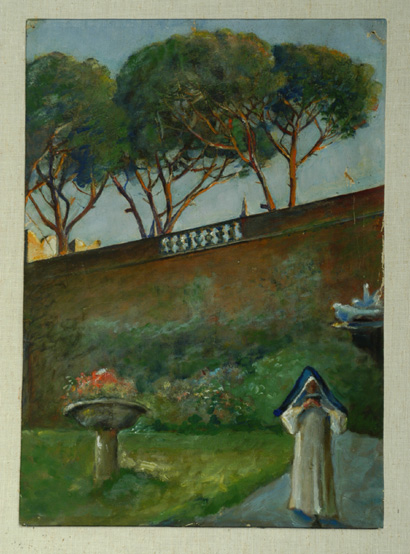 An interesting documentation of how the garden was laid out when the artist lived in the Fortazzuola. The painting shows the inside of the wall encircling the figure of Sister Luigina (a nun who was a friend of the sculptor) walking intent on a prayer book. Higher up, above a balustrade which tops the high wall, pine trees emerge; the garden is decorated by a tub on a pedestal.
The hall
In the small corridor which connects the Room of the fireplace to the Studio, there are displayed along the walls: thirteen figured autograph paintings by the artist, several landscapes of the countryside around Viterbo, a seascape of the Forte dei Marmi, a view of the Po from the artist's studio in Turin, particularly interesting for the period in which Canonica was attending the Academy, and a painting representative of the title Sister Luigina at the Fortezzuola.
The other halls
You may also be interested in